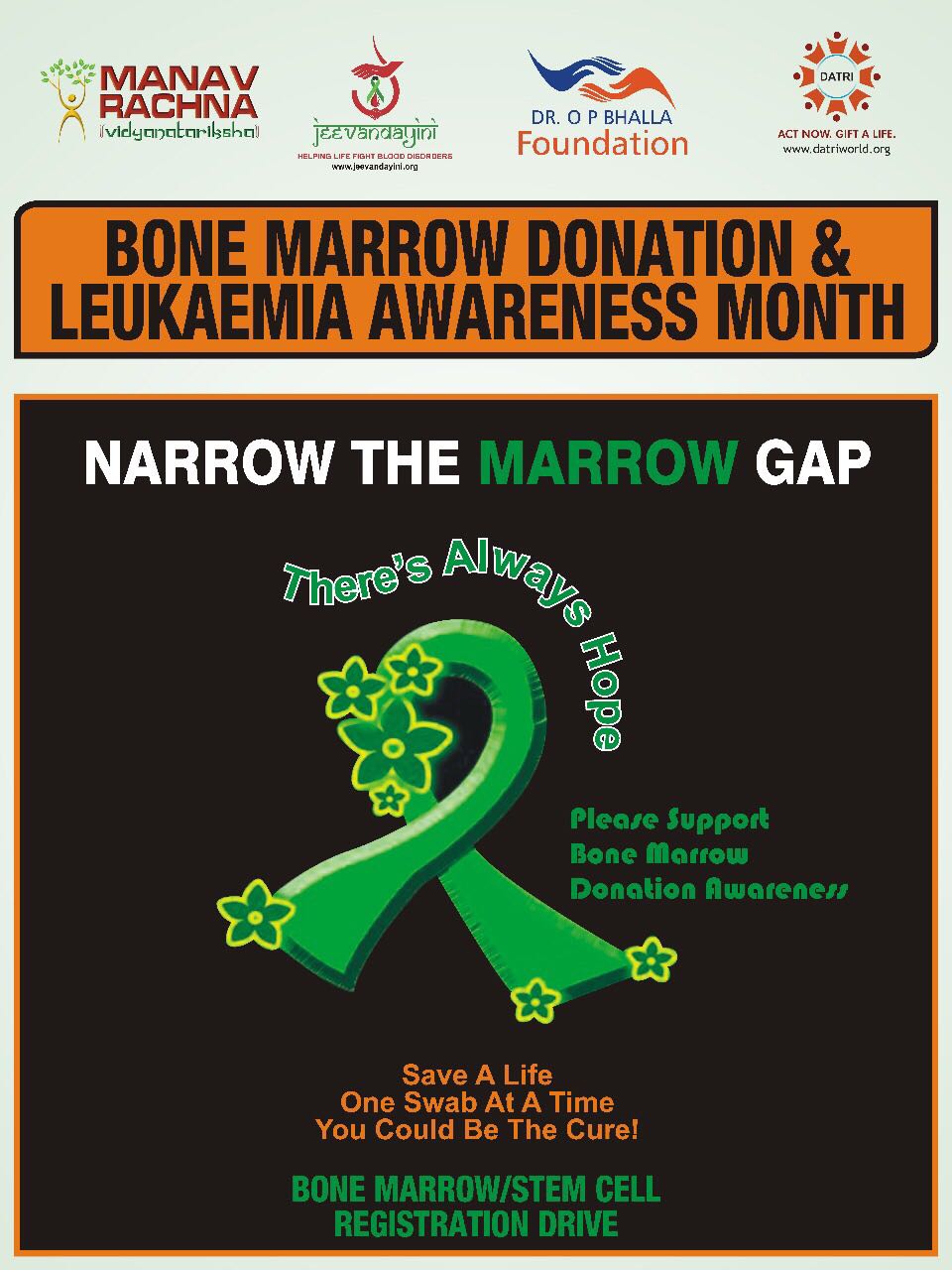 !!!NARROW THE MARROW GAP!!!
The Youth of India takes lead at Twelfth Bone Marrow Drive!
September is Blood Cancer Awareness Month and 16th September is World Marrow Donor Day. As the death anniversary of legendary Dr O P Bhalla,Founder Visionary,Manav Rachna Vidyanatariksha, is also on this day, Jeevandayini Social Foundation & Dr O P Bhalla Foundation come together to mark this day with a Bone Marrow/Stem Cell Donor Awareness & Registration Drive, in technical collaboration with DATRI, India's largest Blood Stem Cell Donor Registry.The Bone Marrow Donation Drive followed by Blood Donation & Thalassaemia Prevention Camp(Sept 14 to 17,2017) is in essence a tribute to his remarkable persona and timeless appeal.
At this Symposium on World Marrow Donor Day, Jeevandayini welcomes an array of notable Oncologists & Bone Marrow Transplant Specialists- Dr Sumant Gupta,Haemato-Oncologist,Sarvodaya Hospital,Faridabad;Dr Rahul Bhargava,Head of Haematoncology & BMT,Fortis Hospital,Gurugram & Dr Prashant Mehta,Consultant & Head BMT,Asian Institute of Medical Sciences,Faridabad.Over the course of the day we will deliberate the facts concerning Stem Cell Donation & Bone Marrow Transplant to mitigate the myths and embrace the positives.
We will mark this day by thanking some of our benevolent Marrow Donors, Blood Stem Cell & Cord Blood unit Donors across the globe who have already donated or are on the Global Registry to donate.
It is also an awareness campaign to encourage more people to register as potential Marrow & Blood Stem Cell Donors. We seek to enlighten people about the importance of Stem Cell Transplants to treat a wide range of blood disorders including Leukaemia, Lymphoma, Multiple Myeloma, Aplastic Anaemia and Sickle Cell Anaemia.
Jeevandayini Social Foundation & Dr O P Bhalla Foundation cordially invite you to be a part of this drive on 14 September 2017 from 10am to 3pm at Manav Rachna University Campus, Faridabad.
Let's join hands to take up this noble cause to the next level.